BUKSU QUALITY POLICY
BukSU commits to provide excellent instruction, responsive research, sustainable extension and quality production for the highest satisfaction of its stakeholders through continual improvement and adherence to applicable requirements.
Veteran Accreditor Dr. Jhayne R. Jabonero of Surigao State College of Technology is one of the members of the 19-person ...
Read More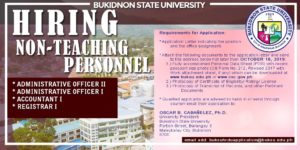 Bukidnon State University is in need of the following non-teaching personnel for the Main and Satellite Campuses. For more Inquiries: ...
Read More