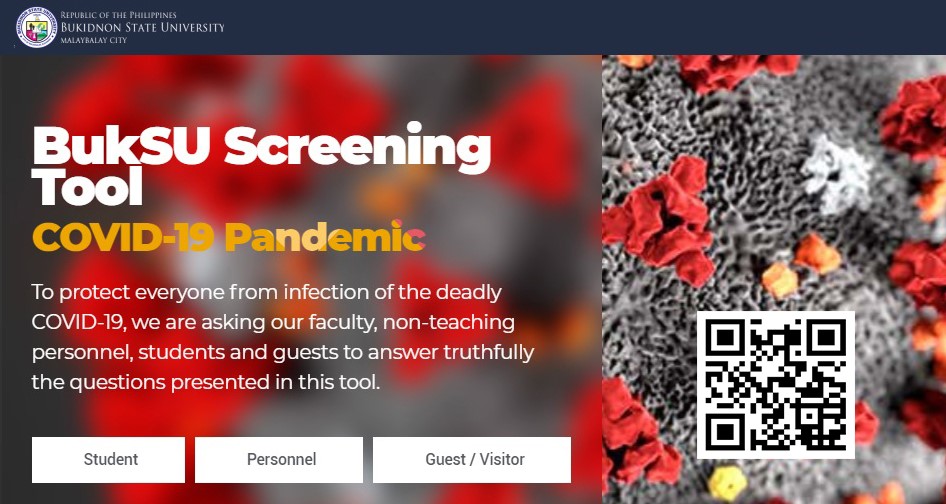 To protect everyone from infection of the deadly COVID-19 virus as BukSU resumes with new normal operations, we are asking our faculty, personnel, students and guests to answer truthfully the questions presented in this tool.
After accomplishing the tool, the system will automatically generate a Quick Response (QR) Code to be sent to your email. Please present the QR Code to the guard on duty for inspection if you enter the main campus. For those who were not given a QR Code after using the screening tool, please follow the instructions given on the screen.
Please note that this is only a management inventory tool to profile the current situation of BukSU stakeholders returning to its campuses. Satellite campuses without internet connection must do manual inventory of the situation of their personnel.
Teaching and non-teaching personnel have to coordinate with the university's Human Resource Development Unit to determine final work arrangement.
All students are advised to remain in their homes. For those who need to come to the main campus, they need to use this screening tool and coordinate closely with the Office of the Student Services (OSS).
The online screening tool is accessible at https://site.buksu.edu.ph/covid19/
Starting May 4, 2020, the university will implement NO QR CODE, NO ENTRY to the campus.
Thank you very much.
Office of the Vice President for Administration, Planning and Development (OVPAPD)