The Quality Assurance Office guides activities of the university to develop a culture of ongoing quality assurance, quality improvement and alignment with mandated higher education standards. The purpose is to achieve the university's goals and outcomes set in its strategic direction. The Quality Assurance Office examines whether the activities of the university meet the standards set by the higher education monitoring bodies, both nationally and internationally.
Highlights of Key Accomplishments
     This office is established to provide a system for quality assurance, quality improvement or compliance with relevant external standards or requirements. This is to ensure that the evaluation of the university's resources, processes, and mechanisms meet the standards of quality such that the consequent results or outcomes in relation to its vision, mission, goals and objectives are achieved.
     The Quality Assurance Office started its operations for the sole purpose of facilitating AACCUP accreditation in the year 2017. The office then was headed by Dr. Marilyn T. Rubio. By 2018, ISA and ISO were added to the Quality Assurance Unit with the ISO Coordinator Dr. Jesus Juevesano and with the ISA coordinator, Dr. Adelda A. Cunanan and a new AACCUP coordinator, Dr. Venessa A. Garcia. By 2020, additional functions were aligned with the Quality Assurance Unit: The COD / COE certification and the COPC for various programs with a newly designated Quality Assurance Director, Dr. Maribel G. Valdez.
The internal and external audit is based on the policies and procedures set by the different offices of the university, whether the offices follow what they set out to do in their manual of operation.
This is a mechanism whereby CHED evaluates whether the institution follows the quality assurance parameters set by CHED.
The accreditation cycle starts with the Level Visit which includes:
The internal training or orientation informs the academic and non-academic personnel involved in the preparation of the visit with AACCUP accreditation matters. An important characteristic is the internal accreditation. The purpose of this procedure is to ensure the readiness of the program in terms of documents, i.e., supporting documents for every benchmark statement of the area, Program Performance Profile (PPP), Compliance Report (CR), and Self-Survey Report (SSR).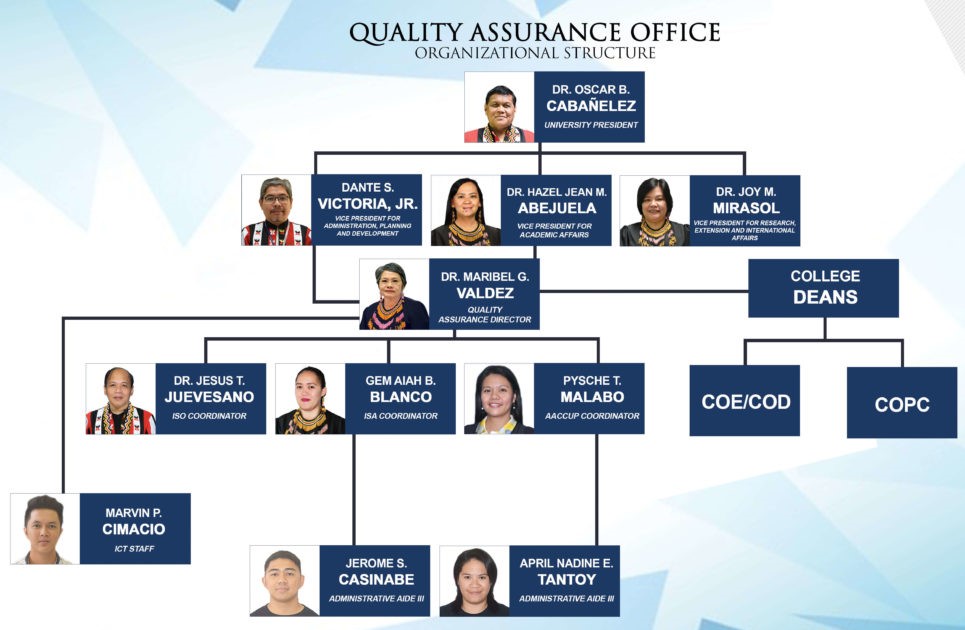 Highlights of Key Accomplishments