The International Affairs Unit (IAU) is an office under the Vice President for Research, Extension, and International Affairs. It is supported by the Advisory Council for International Affairs Directors who work closely with their respective college deans. The IAU also works with the Dean of Students Services, Alumni Coordinators and the Research, IMDC, and Extension Directors.
Duties and Functions
The IAU is mandated to lead the university in addressing the call for the internationalization of higher education institution. It is the frontline office responsible for the planning of the Internationalization Agenda and monitoring of its implementation. Among others, the Unit promotes the Internationalization of the Curriculum and aims to strengthen the university's international engagements in instruction, research, extension, and production. In support of the University's vision and mission, the IAU shall:
lead the university in developing, updating, and monitoring of the implementation of BukSU's internationalization agenda;
strengthen home-based and cross-border internationalization programs through international accreditation and partnerships with foreign universities, individuals, organizations;
assist the academic, research, extension, and student services in implementing its internationalization activities;
promote the university's reputation and visibility abroad
In alignment of the IA Unit's functions, the International Affairs Director shall:
facilitate the crafting, updating and monitoring of the institution's internationalization strategic agenda or action plan;
promote academic, research, and community extension collaboration with foreign universities, individuals, or internationally-affiliated organizations;
work closely with the different offices and units in the university to ensure the implementation of the internationalization action plan or agenda;
receive and disseminate information related to internationalization activities;
coordinate with the different programs in CHED, Department of Foreign Affairs, foreign embassies, and university that are going to be conducted with international partners;
manage or support programs and activities to promote the university's reputation and visibility abroad.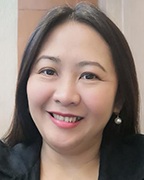 Dr. Elle Christine D. Melendez
BukSU International Affairs Director
International Affairs Unit
Bukidnon State University
Malaybalay City

Tel. No. +63 813 5661 loc 107
e-mail address: ia @buksu.edu.ph
facebook account: BUKSU IA