MALAYBALAY CITYY (OP-IPS) Bukidnon State University won two awards in the Civil Service Commission (CSC)-Regional Office 10's 2020 Virtual Parangal at Pasasalamat on September 30, 2020.
Dr. Oscar B. Cabańelez, university president, was declared as one of the regional winners in the 2020 Search for Outstanding Government Workers under the Dangal ng Bayan Award.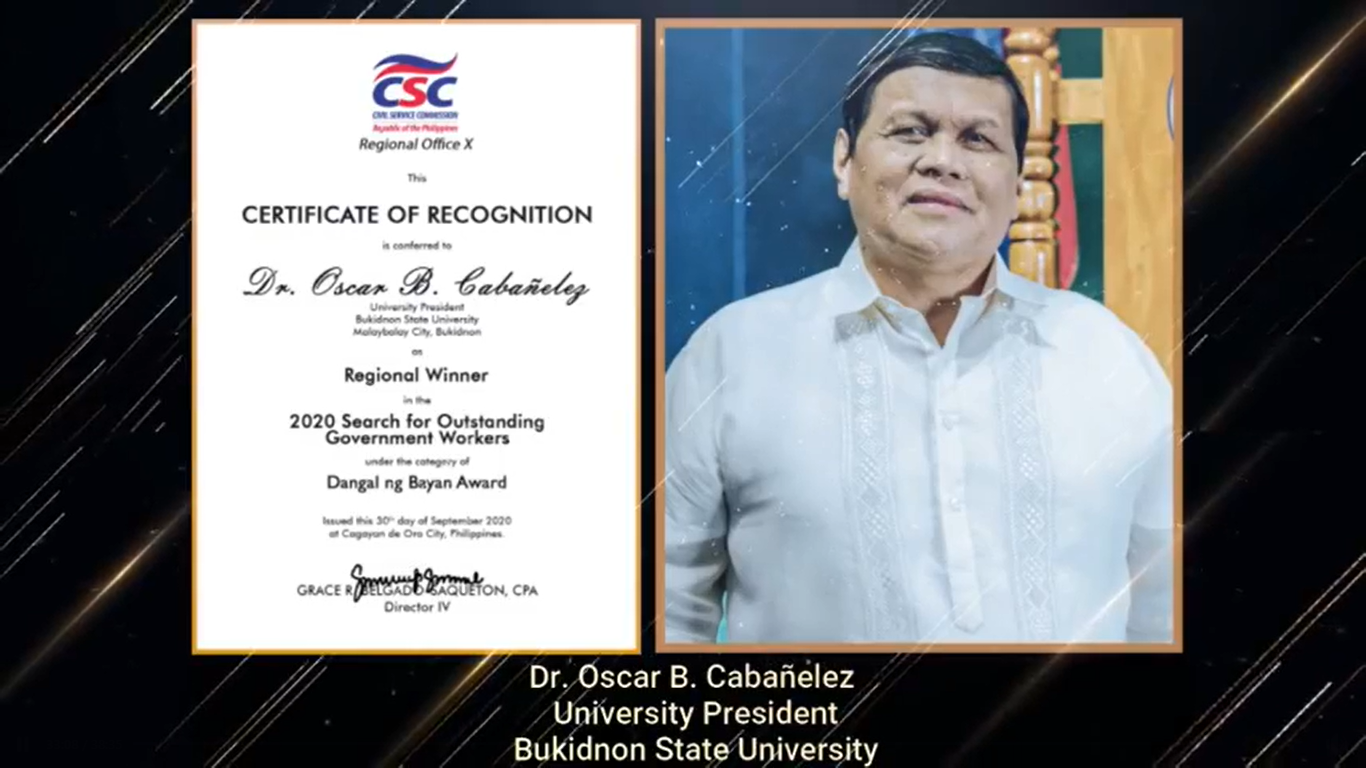 Dr. Cabańelez won along with Mark Anthony E. Viernas, Social Welfare Officer II of the DSWD-10; Mr. Zosimo B. Gomez, a school principal from Department of Education – Iligan City Division; and Mr. Exquil Bryan P. Aron, Education Program Supervisor, Dep-Ed – Iligan City Division.
Winners of other awards, like the Presidential Lingkod Bayan and Pagasa Award, were also named in  the virtual presentation.
The awardees were described as public officials and employees "who have outstanding contribution to public service".
Chairperson Alicia dela Rosa-Bala of the Civil Service Commission, said the winners excelled in their perfornance as individuals and groups who have proven to be exemplars among fellow civil servants.
"A cut above the rest. I hope you will continue upholding the highest standards and values of public service," she added.
The CSC-Regional Office 10 also awarded a Certificate of Recognition to BukSU for achieving maturity Level 2 in PRIME-HRM or the Program to Insitutionalize Meritocracy and Excellence in Human Resource Management.
The Commission assessed BukSU's human resource systems in recruitment, selection and placement; learning and development; performance management; and rewards and recognition.
Dr. dela Rosa-Bala hailed the awardees' hardwork in developing core human resource management systems in order to meet the PRIME-HRM maturity level 2 indicators.
"It has been a challenging journey but now you are reaping the gains of (your) HR reforms," she added.
Among the other recipients of the Certificate of Recognition were the Department of Agrairan Reform-10, Department of Interior and Local Government -10, Technical Education and Skills Development Authority-10, Municipality of Impasug-ong and Department of Education – Valencia City Division.
The CSC-10 Virtual Parangal at Pasasalamat is part of the last leg of the 120th Civil Service Month celebration.  The fourth week, dubbed Linggo ng Pasasalamat, wraps up the month-long celebration among government agencies and offices. The celebration carried the theme: Philippine Civil Service @120: Public Sector in the Age of Digistal Transformation.
BukSU will hold its own closing ceremonies of the month-long celebration on October 2, 2020. (Walter I. Balane/OP-Information and Publication Services)