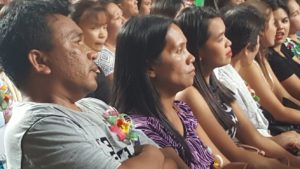 MALAYBALAY CITY  –  "Dili namo ni makab-ot nga kadaogan kun dili tungod sa inyong kahago ug sakripisyo," (We cannot achieve this success without your hardwork and sacrifice)," Rutchell Arquita, a candidate for graduation from the Bachelor of Science in Food Technology program said during the College of Social Development and Technology (CSDT) "Tribute to Parents" program on April 3, Tuesday afternoon.
Arquita said parents' selfless love for their children made them give up their comforts just so their children can travel to school, have a good meal and be able to cover their school expenses.
She cited this, along with unity among batch mates and God's providence, to have helped them survive college.
The five colleges of the university held separate tribute to parents programs in the run up to the 84th Annual Commencement Exercises scheduled on April 4, Wednesday. The College of Arts and Sciences held their program on March 26, ahead of the Holy Week holidays. The College of Education held their program on April 1, Sunday; the College of Nursing on April 2, Monday and the College of Business, on the same day with CSDT, on April 3.
BukSU president Dr. Oscar B. Cabañelez and Vice President for Academic Affairs Dr. Estela C. Itaas also attended a tribute to parents of students who received grants under the national government's 4Ps project.
The tribute to parents is a traditional program before the formal graduation rites.
Some students came with both parents, some with only one and still others tagged along only guardians to the CSDT tribute program held at the BukSU Elementary Laboratory School Quadrangle. Some students offered flowers and gifts after the program while most of them just marked the occasion with family photos or a pose in the photo booth.
"You are the branches of the tree of God, we are the fruits. It is you who truly loved us. You all deserved to be honored and thanked," Christian Jic Israel Eslabon, a representative from the Bachelor of Science in Automotive program said.
Eslabon, whose mother died last year, spoke in Cebuano and recited a poem dedicating his gratefulness to his parents and others present. His father was also unable to attend but he said he was truly grateful of their love and sacrifices.
Self-supporting Development Communication student Rizabel Tuto lamented her difficulties being away from her parents' keep. She said she lived with foster families and tried to make both ends meet as a working student. It was not easy going through college that way, she said.
"So if you have parents now, thank them. There are many of us who do not have parents by our side," she added in the vernacular.
She said, however, that parents must be forgiven for their shortcomings.
"They are humans, not robots," she added.
One of the parents who gave a response, the mother of Ryan Rey Luminay, a Community Development student said they have to sell properties and incur debts to send several children to school.
Dr. Maribel G. Valdez, CSDT dean also shared inspirational thoughts in the earlier part of the program.
Among her key points picked up by parents who gave responses was on the impression that graduation seemed to be the end of the parents' struggles.
"Graduation is not the end. This is just the beginning," she said as she encouraged them to continue nurturing their children.
Dr. Valdez, who described the program as an opportunity for parents to hear their children express their love and gratefulness, used Greek mythology character Sisyphus who pushed a boulder on a hill to illustrate the laborious work parents put up to raise children.
"This is your time to listen to your children. Enjoy and bask," she added.
The dean urged the students to find gainful work and give back to parents by taking care of them and their needs.
"Return the favor, the love, the sacrifices given by them," she added.
A total of 2,165 graduates from baccalaureate and post graduate programs under six colleges, including the College of Law, will be confirmed in two graduation rites, the morning and afternoon schedules, on Wednesday.
The university invited Commission on Filipinos Overseas Undersecretary Astravel Pimentel-Naik, a native of Malaybalay City, to be the guest speaker during the commencement exercises, which carries the theme "Pursuing Excellence through Innovative Leadership in Education." (Walter I. Balane/BukSU Information and Publication Focal Person)